Welcome to Business Central Insights Help
Installation & Setup Process
Our apps can be installed and configured in minutes by following these simple five steps
Please find more information and a detailed description in the Installation and Setup Manual
Frequently asked questions
Where can I find OData URL parameter?
---
The OData URL is a link to your Dynamics 365 Business Central system. The link structure is as follows: https://api.businesscentral.dynamics.com/v2.0/11111111-1111-1111-1111-111111111111/Production/ODataV4/ You can copy the OData URL from the Business Central Insights Connector page.
To copy the link, click on the link three times and then select copy.
---
How do I open the Business Central Insights Connector page?
---
Log in to the Dynamics 365 Business Central browser client.

In the Tell Me box, enter "Insights Connector", and then choose the related link
---
What is the difference between Power BI App and Workspace?
---
Each Power BI app will have its own Power BI app workspace. E.g., the Jobs Insights app will have a dedicated Jobs Insights workspace.
Only the Power BI administrator(s) should have permission to access the workspaces. To add access permission, open the workspace, e.g., Jobs Insights and select the Access button.
Select the user that will manage the Power BI apps and assign the appropriate role (e.g., Member). You can find more information about the Power BI workspaces and roles here.
Power BI administrators that can access the workspaces will be able to configure automatic refresh times, as well as give end users access to the Power BI apps.
It is recommended that end users do not have permissions to access workspaces. End users should only access individual apps.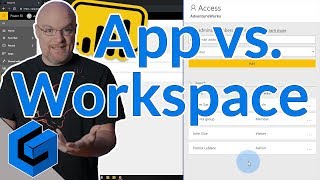 ---
How to automatically install Power BI apps for end users?
---
Open workspace (e.g., Jobs Insights) and select Update app in the top right corner.
Select the

Permissions

tab.
Select Install this app automatically so that the app will be installed for the selected end users.
Select the Update app button.
If Install this app automatically is greyed out you will have to enable it in the Power BI Admin Portal.
Sign in to Power BI using your admin account credentials.

From the page header, select Settings > Admin Portal.

Select Tenant settings

Enable "Push apps to end users".
---
---